TPDS Pincher Creek
Satellite Location
We have secured a new location for our 6th season of dance in Pincher Creek at the United Church. We have exceptional COVID-19 protocols & cleaning procedures in place to ensure your dancer will be safe dancing with us. We have 15 minute time slots between classes to safely clean & sanitize the entire studio space.

Classes will now be running on THURSDAYS with Miss Katrina Kocsis who has returned from training professionally in Vancouver! We are so excited to have her back teaching for us.

Pincher Creek Family Handbook including COVID-10 Procedures & Protocols

---
Winter 2021 8 Session- With Mini Performance!
Following the restrictions the government has kept in place, we have cancelled the Winter 2021 session and are now offering a 4 week Mini Session via Zoom! Dancers will have the opportunity to take classes from all the teachers at TPDS and will be in a zoom studio with our CNP dancers as well.
This 4 week session will run from January 11th to February 5th. The classes will be taught via zoom by either Miss Fenton, Miss Christina, Miss Meagan or Miss Katrina depending on which class you register your child in. Classes are offered throughout the week from Monday to Friday!
Check out the variety of classes we are offering below: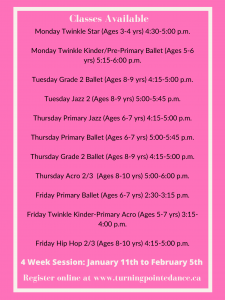 Cost:
30 minute class: $42.00 + GST
45 minute class: $63.00 + GST
1 hour class: $84.00 + GST
---
Register online here:
https://app.thestudiodirector.com/tpdsltd/portal.sd?page=Login
To complete your registration online, the class needs to be paid for with a CREDIT CARD.
However, if you would like to pay with E-TRANSFER, please email us at tpdscnp5@gmail.com to register your child from our end!