Recreational Dance Program
We are now offering sessional recreation classes for anyone interested in dancing without the commitment. These classes will not compete at dance competitions nor do you have to take part in our year end show. All you have to do is be ready to have some fun, learn something new and get some exercise while doing it!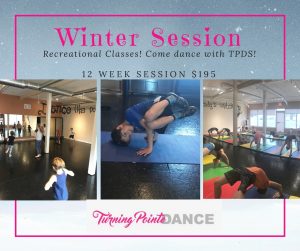 Crowsnest Pass Studio
 $195 for a 12 week session
January 8th- March 29 (No Class Feb 20-23rd)
MONDAY
10-10:45 MOM & TOT Sessional – 12 weeks (Nov 6-Dec 11, Jan 8 – Feb 12)
TUESDAY
3:30 – 4:15 Tinytots
5:00-6:00 Recreational Acro (6-9 yrs)
6:00-6:45- Beginner Grade 1 Ballet (6-9 years)
THURSDAY
4:15-5:00 Beginner Primary Ballet (6-7 yrs)
5:45-6:30 Kindercombo (5-6 yrs)
5:45-6:30 Beg Jazz / Hip Hop Combo (6-9 yrs)
6:30-7:30 Beginner Acro (10+)
6:30-7:15 Try All Combo – Jazz/HipHop (10 +)
Here is the link for HILLCREST CLASSES:
https://app.thestudiodirector.com/tpdsltd/portal.sdpage=Enroll&meth=search&SEASON=201718+Winter++CNP&CLASS_TYPE=&LOCATION=&DAYS=127&START_TIME=&INSTRUCTOR=
See the December Newsletter for instructions if you need assistance! Payments can be made or brought to the studio during office hours! Tuesday-Thursday 3:00-6:00 & Friday 1:00-6:00.
If you are a NEW student/family please contact us at tpdscnp5@gmail.com to discuss class placement & to have your online account set up to register!