Recreational Dance Program
We are now offering sessional recreation classes for anyone interested in dancing without the commitment. These classes will not compete at dance competitions nor do you have to take part in our year end show. All you have to do is be ready to have some fun, learn something new and get some exercise while doing it!
Spring Session
12 Week
February 26th-28th to May 28th-31st
2 Week Break from April 23rd-25th & May 7th-9th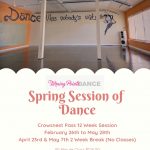 What is our sessional program? Can my student transfer into full year? When does the Winter session run till? When does the Spring Session start? Can my student participate in year-end show?
Click on the newsletter to find out!
Sessional CNP Newsletter December 2018
---