2021 Summer Camps
Fun & Educational Summer Camps are running throughout the month of July & August this summer!
We guarantee to provide your child with a wide range of activities that will leave them with great memories and new friendships!
TPDS Summer Dance Camps will be following all AHS COVID-19 Protocols and Procedures. Camps will be subject to changes as per new restrictions or protocols.
All camps will need a minimum of 6 dancers to run with a maximum of 10 dancers in each camp.
Dancers will need proper dance shoes (if they have them) or clean indoor runners as well as a healthy snack each day.
August 2021
August 16th-20th- The Mighty Jungle Morning Camp: Ages 3 to 7 years
---
Ages 3 to 7 Years
August 16th-20th

The Mighty Jungle Morning Camp
9:00 A.M. to 12:00 P.M.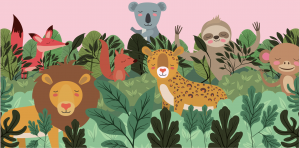 Let your child's imagination soar as we take a trip to the mighty jungle.
Your child will be introduced to the world of dance through the lens of play, imagination, and exploration!
Cost: $170 +GST
(Prop Bag & Camp T-Shirt included in registration fee)
Registration closes August 12th at 9:00 P.M.
---