COVID-19 Policies, Procedures & Protocols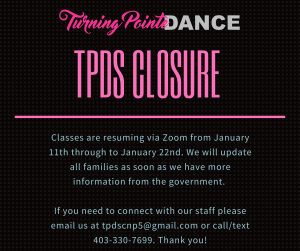 We are so excited to be back in the studio for the 2020-2021 season.  With this season comes an abundance of changes to our daily schedule, procedures & policies.  It is of utmost importance that we keep our dance families, students & staff safe.  This section outlines our daily studio protocols & procedures that we will abide by this season.
Crowsnest Pass Studio Handbook: Family Handbook 2020-2021**
Pincher Creek Studio Handbook: Pincher Creek Family Handbook **
We at TPDS recognize our critical role and responsibility in preventing the risks of COVID-19 in our place of business. The health and safety of our staff and clients are of utmost importance, and we are committed to supporting their ability to work and learn in an environment that excels at protecting them.
Under the current Chief Medical Officer of Health Orders, TPDS is required to:
Implement practices to minimize the risk of transmission of infection.
Provide procedures for rapid response if an attendee develops symptoms of illness.
Ensure that attendees and venues maintain high levels of sanitation and personal hygiene.
Comply, to the extent possible, with the COVID-19 General Relaunch Guidance, this guidance, and any other applicable Alberta Health guidance found at: 
https://www.alberta.ca/biz-connect.aspx.
Based on the government restrictions & guidelines, we have adjusted our policies to reflect this including:
Reduced studio capacity to allow for proper social distancing requirements including only 2 studios running at a time with maximum student/teacher capacity at 25
Our schedule has been adjusted to have 15-minute cleaning times between cohort classes. The schedule also allows for students to remain in the same studio for their duration of the evening with the teacher moving between studios as needed.
A strict enter & exit policy where students enter from the back door of the studio & exit through the front.
Each studio contains a numbered chair, basket & 6' X 7" space for each individual student, and hooks for coats.
All waiting rooms, including the locker room & front office, are closed to parents. Only dancers will be allowed in the building.
No hand-held props will be used unless designated to individual students.
Hand sanitizing stations are located at all entrances & exits of the building, studios, hallways & bathrooms.
Masks will be mandatory upon entering/exiting the studio, moving to class, & using the bathroom. Once students are in their allotted chair spot their mask can be removed.
COMMUNICATION PLAN FOR COVID – 19
We will follow a green/yellow/red approach as follows below that will be communicated to you via email, our website, and through our social media platforms.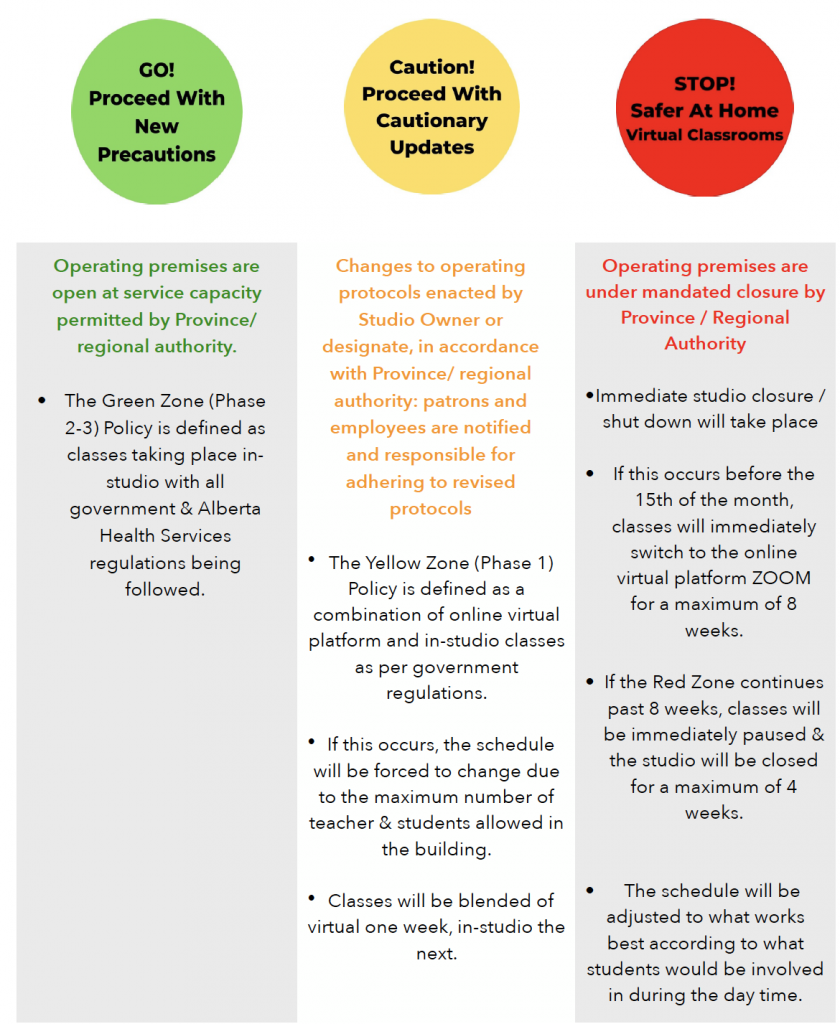 ---
Dancers 
Supply List & Requirements
Due to cleaning protocols, families will need to supply the following items for their dancers. All these items will need to be brought to & from the studio in a small bag or drawstring backpack (A dance bag).
Twinkle Star/Twinkle Kinder/Pre-Primary Ballet/Primary Ballet Dancers:
Proper attire & shoes (please see our website for a detailed list)
Water Bottle
Small teddy bear – Purchase in the online shop in the parent portal
Small scarf – Purchase in the online shop in the parent portal
A Small bag or drawstring backpack to carry their belongings
Mask
Grade 2+ Dancers:
Proper attire & shoes (please see our website for a detailed list)
Yoga Mat
Water Bottle
A TheraBand will be assigned to your student the first week of classes that they will keep in their belonging bag
A Small bag or drawstring back pack to carry their belongings
Mask
All Acro Dancers:
Proper attire & shoes (please see our website for a detailed list)
Yoga Mat
** New for 2020-2021** Dancers must have a non-slip, grippy sock as bare feet is prohibited
1 yoga block (The studio will assign the 2nd block to your student the first week of classes that they will keep in their belonging bag)
Mask
---
Use of Masks
The use of masks will be mandatory when:
Entering the building and walking to the dancer's studio
Exiting the studio & building
Using the bathroom
Teachers will be wearing masks at all times. Dancers can remove their masks once they get to their chairs in the studio. Dancers will not be required to wear the mask while dancing.
---
Entering the Studio
We will be having 2 separate entrances this year to allow for proper social distancing. Drop-Off will take place at the REAR of the studio!
If your students' class is in Studio C, please follow the signage labeled Studio C Entrance
If your students' class is in Studio B, please follow the sign labeled Studio B Entrance
Studio A is only being used for private lessons this year. All private lessons will enter from the studio C entrance.
Students must wait outside the building until let in by their teacher. NO students are to enter the building unless a teacher lets them in. Proper social distancing measures will be in place upon the exterior of the building. Masks should be worn once students have exited their vehicle. Upon entering students will:
Have temperature taken
Remove outdoor shoes & put proper dance shoes on
Proceed to their chair/basket
Parents: Please be advised that students can only be dropped off 5 minutes prior to their class time. They must wait in the vehicle until they see a TPDS teacher outside their entrance door. We ask Parents to please wait in their vehicles or stand socially distanced outside as per the labeled signage.
---
Exiting the Studio
When a class has finished dancers will place all their belongings back into their dance bag. They will put their outdoor shoes & mask on & be escorted out of the studio by their teacher. Teachers will be responsible for the opening & closing of all doors.
Pick-up will take place at the FRONT of the studio! Students will be escorted out the front door, given hand sanitizer & they must immediately proceed to their vehicle. Dancers MUST be picked up within 5 minutes of their class ending.
---
The locker & dressing room is CLOSED.
Students MUST arrive prepared for class dressed in their attire & proper hair done. Students will NOT be allowed to change at the studio. Please limit what your dancer has to bring to & from the studio.
---
Cleaning Procedures
The entire building will be deep cleaned at the beginning & end of each day. During the changes of cohort classes, the studio will be sanitized with an Electrostatic Sprayer that cleans the space in 30 seconds with a drying time of 8-10 minutes. This will be sprayed on all surfaces, barres, floors & walls. The cleaning product is Vanguard General Purpose Disinfectant Cleaner that is part of Health Canada's list of hard-surface disinfectants with evidence again COVID-19.
---
Eating at the Studio
Eating at the studio will be prohibited unless a student has 3+ classes in one day. The dancer can have 1 snack that does not require any microwaving.
---
Breaks at the Studio
We have strategically planned our schedule & privates to ensure students have limited breaks at the studio. Due to social distancing, we have designated waiting chairs in the back room, locker area & front desk area. If your student has a break, they will be assigned to one of these areas & they MUST abide by our social distancing protocols.
---
DAILY SCREENING CHECKLIST
With the recent changes made by the Alberta Government, we have updated our daily screening questionnaire to reflect these changes.
We will now have 2 separate questionnaire links:
#1 Daily Screening Questionnaire for children under the age of 18 years (the same original link that was sent out) https://forms.gle/96b8PHBNAkbsZkQX7
#2 Daily Screening Questionnaire for adults over the age of 18 (NEW LINK) https://forms.gle/PMffz5RMPhZQ3A7r7
Please remember this screening questionnaire MUST be completed PRIOR to your dancer or yourself entering the dance studio. 
Thank you for helping to stop the spread of COVID-19 and keeping our dance studio safe!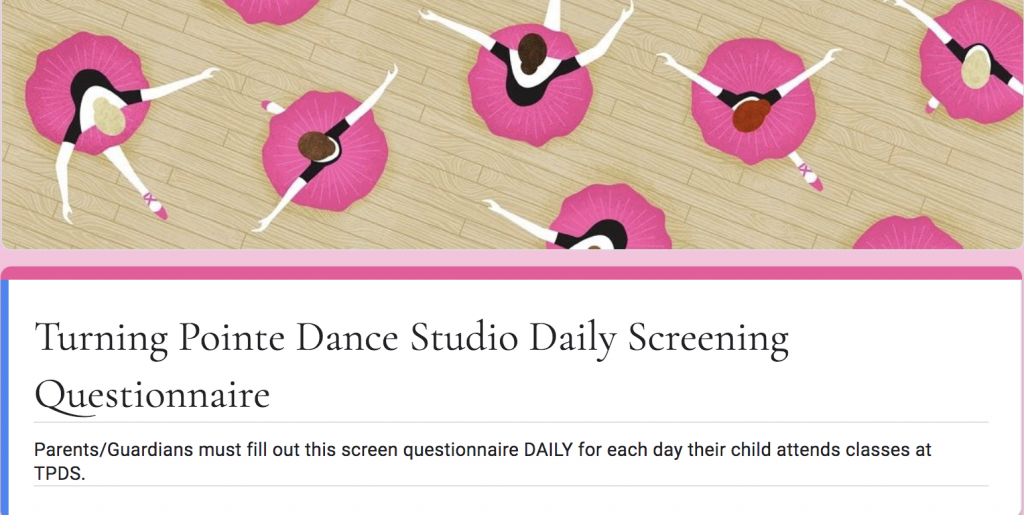 ---