COVID-19 Policies, Procedures & Protocols 
We are so excited to be back in the studio for our 20th Anniversary Season. It is of utmost importance that we keep our dance families, students & staff safe. This section outlines our daily studio protocols & procedures that we will abide by this season.
We at TPDS recognize our critical role and responsibility in preventing the risks of COVID-19 in our place of business. The health and safety of our staff and clients are of utmost importance, and we are committed to supporting their ability to work and learn in an environment that excels at protecting them.
Crowsnest Pass Studio Handbook:Family Handbook 2021-2022
Pincher Creek Studio Handbook:Pincher Creek Family Handbook **
2021-2022 Dance Season Polices & Protocols 
• All Faculty, Dancers & Parents MUST wear a mask when entering our facility.
• Masks will be mandatory upon entering/exiting of the studio, moving to class, & using the bathroom. Once students are in their allotted chair spot their mask can be removed.
• Parents MUST refer to the Alberta Health Services Daily screen checklist before sending your child to the studio. There will be no need to submit the checklist to us this year. COVID-19 Dailu Health Checklist
• A strict enter & exit policy where students enter from the back door of the studio & exit through the front. ALL dancers will enter from separate entrances according to the dancer's schedule of classes.
• Each studio contains a numbered chair, basket & a social distanced space for each individual student and hooks for coats. Shoes will be removed upon entrance to the studio and placed on the appropriate boot rack.
• Dancers & Staff will follow proper hand washing and sanitization throughout
the studio.
• All waiting rooms, including the locker room & front office are closed to parents. Only dancers will be allowed in the building to ensure everyone's safety. The studio is CLOSED to the public.
• We will have a designated space for any dancers that require a snack or have a break in their classes. Food will ONLY be allowed in the eating area. This will be strictly enforced.
• Hand sanitizing stations are located at all entrances & exits of the building, studios, hallways & bathrooms.
• Parents of students who are under the age of 6 years of age & require assistance to prepare for class will be allowed in the back & front entrances for drop-off & pick-up as needed.
• If dancers are dancing closer than 2 meters apart throughout choreography, they will wear their mask as needed.
COMMUNICATION PLAN FOR COVID – 19
We will follow a green/yellow/red approach as follows below that will be communicated to you via email, our website, and through our social media platforms.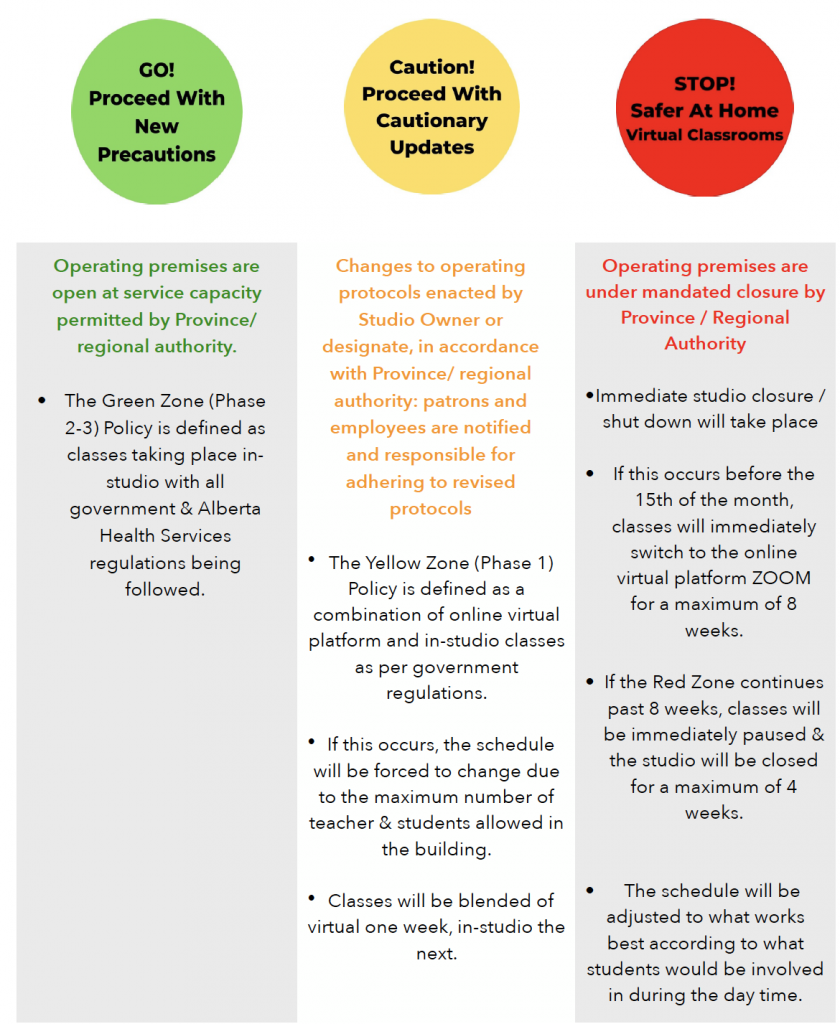 ---
Dancers 
Supply List & Requirements
Due to cleaning protocols, families will need to supply the following items for their dancers. All these items will need to be brought to & from the studio in a small bag or drawstring backpack (A dance bag).
Twinkle Star/Twinkle Kinder/Pre-Primary Ballet/Primary Ballet Dancers:
Proper attire & shoes (please see our website for a detailed list)
Water Bottle
Small teddy bear – Purchase in the online shop in the parent portal
Small scarf – Purchase in the online shop in the parent portal
A Small bag or drawstring backpack to carry their belongings
Mask
Grade 1+ Dancers:
Proper attire & shoes (please see our website for a detailed list)
Yoga Mat
Water Bottle
A TheraBand will be assigned to your student the first week of classes that they will keep in their belonging bag
A Small bag or drawstring back pack to carry their belongings
Mask
All Acro Dancers:
Proper attire & shoes (please see our website for a detailed list)
Yoga Mat
Dancers must have a non-slip, grippy sock as bare feet is prohibited
1 yoga block 
Mask
---
Use of Masks
The use of masks will be mandatory when:
Entering the building and walking to the dancer's studio
Exiting the studio & building
Using the bathroom
Teachers will be wearing masks at all times. Dancers can remove their masks once they get to their chairs in the studio. Dancers will not be required to wear the mask while dancing.
---
Entering the Studio
We will be having 2 separate entrances this year to allow for proper social distancing. Drop-Off will take place at the REAR of the studio!
• If your students' class is in Studio C, please follow the signage labelled Studio C Entrance
• If your students' class is in Studio B, please follow the sign labelled Studio B Entrance
• If your student's class is in Studio A, please follow the signage for Studio B entrance.
Students must wait outside the building until let in by their teacher. NO students are to enter the building unless a teacher lets them in. Proper social distancing measures will be in place upon the exterior of the building. If your dancer appears sick upon drop off, we will give them a temperature check and place them in our designated area if they have a fever. Masks should be worn once students have exited their vehicle. Upon entering students will:
• Remove outdoor shoes & put proper dance shoes on
• Proceed to their chair/basket
PARENTS: Please be advised that students can only be dropped off 5 minutes prior to their class time. They must wait in the vehicle until they see a TPDS teacher outside their entrance door. We ask Parents to please wait in their vehicles or stand social distanced outside as per the labelled signage.
---
Exiting the Studio
When a class has finished dancers will place all their belongings back into their dance bag. They will put their outdoor shoes & mask on & be escorted out of the studio by their teacher. Teachers will be responsible for the opening & closing of all doors.
Pick-up will take place at the FRONT of the studio! Students will be escorted out the front door, given hand sanitizer & they must immediately proceed to their vehicle. Dancers MUST be picked up within 5 minutes of their class ending.
---
The locker & dressing room is CLOSED.
Students MUST arrive prepared for class dressed in their attire & proper hair done. Students will NOT be allowed to change at the studio. Please limit what your dancer has to bring to & from the studio.
---
Cleaning Procedures
The entire building will be deep cleaned at the beginning & end of each day. During the changes of cohort classes, the studio will be sanitized with an Electrostatic Sprayer that cleans the space in 30 seconds. This will be sprayed on all surfaces, barres, floors & walls. The cleaning product is Vangard General Purpose Disinfectant Cleaner that is part of Health Canada's list of hard-surface disinfectants with evidence again COVID-19.
---
Eating/Breaks at the Studio
Eating at the studio is not encouraged unless a student has 3+ classes in one day. The dancer can have 1 snack that does not require any microwaving. This year dancers have been allotted break times. If this applies to your dancer, they will be shown their designated space for their break each week.
---