2

021 Fall Session
Adult Barre Workout

Taught by Miss Rebecca!
This is not a dance class. BARRE is a challenging, high-muscle burn workout that targets arms, thighs, glutes & core strength with rehabilitating stretches throughout an emphasis on posture and alignment. Classes incorporate work at the barre  & on the mat. Mat, weights, resistance bands & balls provided. All levels welcome. Barre is for any-BODY!
Session #1:
4 Week Session Sept 19th to Oct 14th
Sundays, Tuesdays (FULL) & Thursdays 7:00-8:00 P.M.
Class Cost:
1 Class a week $52.50 + GST
2 Classes a week $96.60
3 Classes a week $132.30
Session #2 (Registration will open October 21st**)
5 Week Session Nov 14th to Dec 16th
Sundays, Tuesdays & Thursdays 7:00-8:00 P.M.
---
Adult Dance Fusion- Contemporary Ballet
A class for adults that have dance experience! Maybe a little or maybe a lot! This the class for you! This class will start with a warm-up, barre and move to Centre Work. We will explore both Contemporary and Classical Ballet disciplines.
September 22nd to November 24th
9 Week Session- $198.45 + GST
Wednesdays 8:00-9:00 P.M.
(No Class Nov 10th)
6 Adults needed to run the class
Maximum of 8 adults in the class
Silver Swans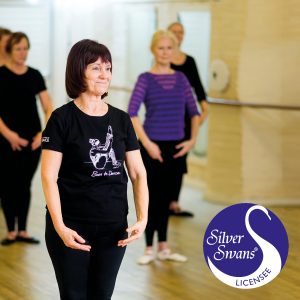 Silver Swans® classes have been specifically designed for the over-55s, but whatever your age, if you are looking for a new way to keep fit and active our ballet classes will put a spring in your step. Whether you've never danced before or want to get back into the swing of it, our classes have something for everyone.
September 23rd to November 25th
9 Week Session- $148.84
Thursday Mornings 11:00-11:45 A.M.
(No Class Nov 11th)
6 Adults needed to run the class
Maximum of 8 adults in the class
---